Biography

Singing : Since I was 4, I've been passionate about singing ! One could say a familial genetic as my 2 grand mothers used to sing, one in Opera in Paris and the other one on radio shows and sometimes for the village parties with musicians. But they were not professional singers. My mom, when young, should have gone to a musical art school (dance and music) but she was forced to give it up when her father died.
At 10, I sang for the 1st time on a school stage , in solo, following the recommandations of my professor who gave us sometimes some singing lessons.
A 18, during my studies in London, I am invited to sing with a rock band and…waouh ! what an amazing experience for me ! Fire overwelmed me ! Still in London, I won a singing competition in an irish pub…This stay in England would have transformed me , I started to be aware that I had to pay attention to my voice…but I carried my Foreign language studies (in a certain way, it has sthing to do with the voice …)
A 23, I met Terence and this is a real Tsunami that came out to upset my entire Life , my interior. I got a very great awareness of what my Life would turn to from now on : Music and Voice !
The bonus arrived one year after with the confirmation ,directly from Valérie Zeitoun (famous label AZ, France), that I should developp my own -latent- style. I decided to take 2 years of singing lessons and I worked on my style in live, alone.
With Weend'ô and since a few years, I feel that my voice, my being push me to go further..Since 2016, I've been focused my work on my voice, on my interior, cos everything is interdependent ! I do hope to offer you a new vibration with the upcoming album !!!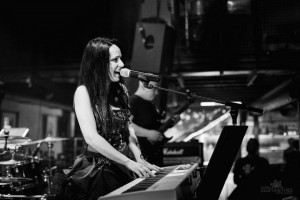 Piano : I learnt to play piano from 12 to 14 years old. With my neighbour. she rapidly felt my passion for creation and enable me to create my own riffs at 14. But due to my studies, I had to make a choice and stopped learning and playing music. It's Terence who pushed me to play again when we met in 2002. So I didat 23 and at 26, I created my first song "Letter to an Angel" (for my grand mother).From that time, I've kept on creating my own compositions and finding my style. I thank him for that, he was right ! Terence helped me to find my path : singing and playing music ! I put my heart, my soul in this new life, supported by wonderful musicians ! Weend'ô is my life project ! I do want to bequeath and dedicate that to our son Ewen, whose name is the origin of "Weend'ô" !
musical influences :
Female singers : The Gathering (with the ex-singer: Anneke van Giersbergen), I had the opportunity to meet her at the horizon rock festival in Sarlat in 2003. What an exceptionnal voice !
Vic Anselmo, Marcella Bovio, Monique from Harvest, Christina Booth from Magenta, Karen Matheson with her wonderful song "Ailein Duinn", Loreena McKennitt, Alanis Morissette, Sinead O'Connor, Sarah McLachlan, Tori Amos, Amy Lee, Frédérika Alésina.
Male singers : Daniel Tompkins, Brandon Boyd, Maynard James Keenan, Mick Moss, Ed Sheeran, Julien Rouche "Jouch", Alan Reed.
Bands : Karnivool, Tool, A Perfect Circle, Anathema, Incubus, Metallica, Massive Attack, Prince, Lenny Kravitz, Tesseract, Porcupine Tree, Pineapple Thief, Lazuli, Naïve, The Gathering, Harvest.
what pushes me to go on :
Love, my family, my friends, people I've met by chance for whom our music brings smiles and all the supporting messages from the fans ! Of course, all my Dreams !
what I hate the most :
closed-minded people, hypocrisy, cowardliness, giving up without trying to fight before..
my favourite movies :
Braveheart, the last of the Mohicans, Gladiator, Avatar, Matrix, Star Wars, Geisha, Australia, Seven, Legend of the Falls , the last Samouraï
my favourite meal :
I would say "my favourite dessert" : vanilla ice-cream with melted chocolate covered by whipped cream. The french name of it is "chocolat liégeois". Also, I adore sweet and sour food.
equipment on stage :
HF micro BETA 87, keyboard Studiologic Numanano, 1 MAC with mainstage software.