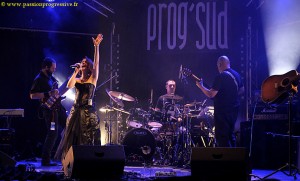 The musical universe of Weend'ô (pronounced "window") is a subtle mix of rock, between Pink Floyd's ambiant references and Tool's modern riffs. The harmonized and uncluttered arrangements support an original, powerful voice; emotionally charged, influenced by the famous singer Anneke Van Giersbergen (ex The Gathering).
Weend'ô explores the depths of the human psyche : its qualities and faults, its fears and joy, its relationships… The lyrics are written from real experiences and through melodic progressive rock, the audience is invited to a journey from the inside. Whether incisive or sensitive, Weend'ô "speak" to our hearts and our souls.
Their 1st album CD/DVD "You Need To Know Yourself" released in January 2012 received very good reviews in Holland, Canada, Poland, France, Brazil, and be pronounced "best band and best album of November 2012″ in a bresilian rock metal prog zine.
From 2013 Weend'ô is performing at 4 with new arrangements brought by International Prog Award nominee Stephan De.Reine (Stephane Deriau-Reine – Los Angeles), producer and keyboardist for numerous bands and artists worldwide. The band was invited by Musicwaves and Clive Nolan (Pendagron, Arena) to an intimate show to support the Clive Nolan's Musical "Alchemy" in March 2013, and every year since that date. The International Festival "PROG SUD" near Marseilles (Southern France) welcomed the band with a big standing ovation (in May 2013) !
To enlarge their audience, and to show their creativity & love for ARTS , the band decided to release a DVD "Weend'ô Fairytal'acoustic" (JANUARY 2014). The DVD received very good returns and enabled the band to play everywhere : Theaters, Museums, Auditoriums…
Due to personal projects of the couple-founders Laetitia/Terence, between 2014 & 2016 the band will be rarely on stage (except the to be underlined gig with Arena in Toulouse and their position as Headliner on a stage in their local festival).
In summer 2016, the band come back to their home studio and work hard to offer you in Autumn 2017 a new electrical album with a tour in France/England. To be announced during the spring fundraising campaign ! so stay tuned !
The best is to come…Weend'ô is hoping to share with many different audiences a magical & memorable moment !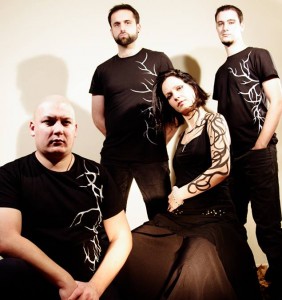 Musicians : 
Laetitia CHAUDEMANCHE (vocals/keyboard/lyrics) http://www.weendo.fr/en/laetitia-vocals-keyboard-lyrics/
Térence NGUYEN VAN (guitars/arrangements) http://http://www.weendo.fr/en/terence-guitar/
Maxime RAMI (bass) http://http://www.weendo.fr/en/max-bass/
Nathanaël BUIS (drum, loops) http://http://www.weendo.fr/en/nathanael-drum-loop/