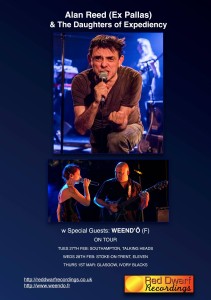 2018 February 27
Southampton, UK
ALAN REED & THE DAUGHTERS OF EXPEDIENCY
Alan himself needs little introduction, having been the vocal powerhouse behind Scots Progressive Rock
legends Pallas for over 25 years. Since going solo in 2010, Alan has released two studio albums – the
latest of which, 'Honey on the Razor's Edge' , marries the energy and drama of his former band with a
celtic sweep all of his own. He's toured extensively, opening for It Bites, Francis Dunnery & Steve
Hackett – as well as performing at Marillion's Convention weekend at Port Zelande in the Netherlands.
With the Daughters of Expediency, Alan has found the right mixture of dynamism and musical experience
to bring his music to life. The band gives passionate performances of both Alan's solo and Pallas
material. The line-up is as follows
Alan Reed: Vocals, 12-string, Bass pedals
Mark Spencer (ex Twelfth Night/Galahad): Guitar, vocals
Daren Callow (Dare to be Charlie): Guitar
Tudor Davies (ex Arco): Keyboards
Jennifer Clark (Horse): Bass
Henry Rogers (Touchstone): Drums
WEEND'Ô (Acoustic)
Weend'ô are a Progressive/metal band from France whose influences encompass the atmospherics of
Pink floyd and the drive of modern Prog metal riffs. Their focus is Laetitia Chuademanche a front
woman of extraordinary power – both vocally and in terms of stage presence. They've toured extensively
in France, and recently released their second album, 'The Awakening'. They've now come to the attention
of UK audiences through successful recent appearances at the Summer's End and Quinphonic
Festivals.
The line-up for these dates is as follows:
Laetitia Chaudemanche: Vocals, keyboards
Terence Nguyen: Guitar
Rami Maxime: Bass..